To Create a Successful E-commerce Website you need to:
Select an appropriate Domain Name
Present your Company and Build your Website
Build your Ecommerce store
Establish credibility through valuable Content
Promote your Website
Start Selling and Communicating with your visitors and customers
We will go in detail about each of the topics in a few moments. But before we do that – you will save lots of time if you have a clear vision of your business goals, purpose of your company and so on. If you need to define your goals read this article from an experienced usability firm.
1. Choose a Winning Domain Name for your Business
You can register a Branded Domain Name – like your company name, or a name with major keywords you want to rank for in search engines.
Make your domain name short, easy to pronounce and easy to remember.
Make sure you do not infringe any trademark laws. Because laws are not so interesting topic, watch a video about it. In just 5 minutes you will learn everything you need to know about domain name laws.
Links from the video:
To check if the name you plan to register is protected go to: United States Patent and Trademark Office
Instructions:
Select Search on the right side of page. New page opens.
Now select New User Search Form.
In the Field Search box enter name you want to check.
For more information read Icann`s Uniform Domain Name Dispute Resolution Policy.
Register your Domain Name
Once you find your winning name go here to see if its available.
Enter your name in the search box.
Select domain name extension from drop down menu. Dot com – .com is best for commercial sites.
If your name is available – register it right away to prevent anyone from registering it before you!
Buying your business domain name will give you 3 key benefits:
Unique place on the web – your domain name will become a synonym for your ecommerce business.
Brand Protection – once you own your domain name, the value of your brand is secured with your domain name.
Ownership – you become the sole owner of branded domain name and personalized email addresses. You can do anything you want with your domain name!
2. Create a Professional Looking Company Presentation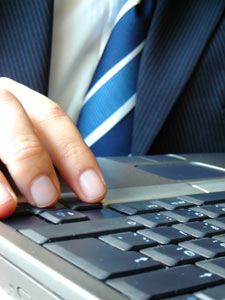 Be Professional
Your visitors want to feel they are dealing with a serious company. Give them this feeling with Professional looking Web Templates. You don need to hire a web designer. You get 100 HTML Templates with every domain name ordered with Hosting Residence.
Create a simple and usable Layout
Use tested layout with navigation on left, header (with slogan of your company) on top and additional information in footer.
Create a Company Slogan!
If you don`t have one create it now! Slogan is a short, up to 7 words long, unique statement about your business! This site is full of slogan examples and will give you inspiration for creating yours!
Make good first impression
When people will come for the first time – thats when they will decide if they will come back or leave and never return.
Give your visitors a way to contact you!
Put phone number and email address on every page of your site.
Bottom line is to build trust and credibility. If people wont trust you, they wont buy from you. It is as simple as that.
I found a great article about Building Trust on Ecommerce Sites you should take a look at.