1. Set your Site Goals

Ask yourself what do I want to achieve with my website, what is the purpose of my site. Do I want to build a family website to share photos and movies? Do I need to cover an event like wedding or reunion? Or is it a Blog that i want, to express myself and write about things I love? This are called personal websites. It is easy to create them.
If you have a company you need a business website. The one that would tell your potential customers more about your products and enable them to buy your products online.
You will choose a domain name and hosting depending on your website type so take a moment and decide what kind of website do you want.
2. Can I build a website myself?
Yes. Creating a simple website is easy! People often get turned off, because they don`t know whats involved in creating a site. And they get encouraged when I tell them that it takes less than an hour to create a Blog.
3. Think how would you like your site to look like.
Website Design
I am sure you have seen beautiful websites and thought yourself wow…I would like to have a site that would look like this one. Well you can. There are thousands of fantastic templates you can use. When you spot a website try wo look at it with webmaster eyes. Try to recognize elements like navigation (usually on left or top), content (usually in the middle) and Ad space. This will help you choosing what kind of design you want for your website. Here are some common design layouts:
Website Structure
Things you want to put on your website need to be organized and connected. The very first page you seen when you visit a website is called index or home. This page is very important because it is the first thing your visitors will see. On index page there are links to other pages like about me, contact, site map and others.

Try to draw a tree with index on top and connect it with your topics with lines. It should look like this: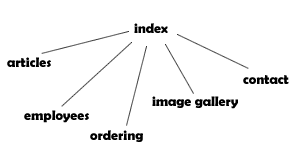 This will get you a wider look of your project, so you don't get lost along the way. Here is an great article for those who want to know more about Website planning.

Great! I trust you about what kind of website do you want. I know you have followed Action steps and now have a plan about your website. Now I will tell you how to choose a best domain name for your new project.