Website Planning Step 2: Website Goals
Second step of Website Planning is Setting Website Goals. This is very important, because now you are going to transform your goals to site content and structure. Our imaginary site is about carpets. And our goal is to provide valuable information about carpets. So next thing we are going to do is to think about what our average visitor would want to know about carpets.
Write it on paper, don't limit yourself, just write anything that comes to your mind.

Note: If you have no idea, just search the web for your keyword and you will soon be on your way.
Now organize these things into sections. Keep in mind: you are providing valuable and organized information for your visitors. It works best for me if I draw a sketch of what my structure will look like.
Example:
Home
History of carpets
Making carpets
Buying carpets

New carpets
Used carpets
Shipping costs
Best Stores
About us
Website Planning Step 3: Designing page Layout

By now, you should have a clear vision of what you want to achieve (Step 1) and a sketch of your site structure (Step 2).
Now about design: Your main goal is designing the layout, that is how will be the content organized on a page.
The best thing to do is drawing a sketch on paper. Where should you place navigation, main text, links, photos and what colors should you use.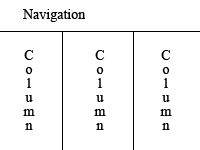 You don`t need to reinvent a wheel, check out some designs you like, and use what you want to make your own.
One of my mistakes (since i am not a web designer) was to fall into endless hours of editing graphics or design in graphics programs. I could never make it look the way i wanted to…argh. 🙂 If you are not a designer get someone do it for you or use a template. It is much cheaper and will save you lots of time and nerves.

Note: A consistent design will ensure great user experience and will make your site look more professional.
Conslusion:

Here are three steps of Website Planning:
Set your website goals and follow them
Convert these goals into structure and content
Make a consistent page layout
Plan your work and work your plan and you will be on your way to success. If you ever get in doubts follow rule »less is more« and try to think what your visitors would want. Because they are the most important part of your website.