If you have already selected and registered your domain name, it`s now time to choose a web host.
Take your time Choosing Web Hosting

A web host is much more than just provider of space, it is the core of your website and your business. There is not just one host, that is best for every ones needs.
In this step you will learn what hosting type you need for your specific needs, so read it carefully.
After you have seen different options below, I invite you to view comparison of these hosts I created. This will give you better overview of the details and help you with your decision.
Money Back Guarantee
It is important to know that all Web hosting plans below have a money back guarantee. So if you decided that a particular host is not for you, you will get a full refund no questions asked. All of the plans below apply a 30 day money-back guarantee as stated in their Terms of Services.
Important Web Hosting Features
If you want a personal or a business site there are some essential things that all of the plans below have in common:
Great customer support anytime you need it
High uptime
Ability to access your site 24/7
Own email accounts
Risk free sign up with Money Back Guarantee
I encourage you to check these facts by contacting support and to check company data on other places. Because I don` t want you order web hosting with any of the companies if they are not right for you.
That`s why I recommend you to read this entire guide and contact me if you are in doubts, because I want you to have a positive experience with web hosting.
Web Hosting Option#1: WebSite Tonight®
Revolutionary Point and Click building
Perfect for Family or Personal sites
No programming ever needed!
Templates and premium photos included in price
Sign up here or read about this plan below.
Website Tonight® is a fantastic Web hosting plan that has been built for those who don`t know HTML and also don`t want to learn any!
Creating Web pages has never been easier
All you need is point and click. Beginner-friendly Web Tool enables you to start building instantly:
You do not need any additional software.
You do not need to make or buy templates.
You do not need to search for photos, flash intros or add-ons.
It is all prepared for you!
You can even add videos, music or create a chat room with the click of a mouse. You will never have to spend your time installing scripts and learning how to code.
Professionally Designed Templates

This package comes with 800 professionally-designed HTML Templates for you to choose from and includes over 8.000 High Quality Photos you can insert in your website. People are amazed when they see how beautiful templates are and how easy it is to customize them.
With so many premium Photos you will surely make your website stand out from others. And the best thing is, you won`t need to learn any programming.
Website Tonight is perfect for creating almost any kind of personal or business website. Whether it is a Photo Gallery, Company Presentation or a Wedding Website – you can build it with no programming skills or additional software!
Learn more about Website Tonight here.
WebSite Tonight Pricing

There are 3 different packages to choose from (starting at $7.95).
How To Sign Up

When registering your domain name, select one of the WebSite Tonight packages as your hosting option on the order form.
Sign up for WebSite Tonight Hosting.
Web Hosting Option#2: Hosting Only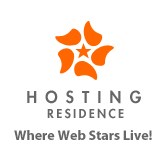 For intermediate users
LOTS of Web Space
Free, Add-on applications
Great for expanding sites
Sign up here or read about this plan below.
This package is best for those who plan to build their website on their own, because it doesn`t provide any web building tools. If you don`t have a HTML editor yet, you can buy Dreamweaver to create your pages.
Extras
However, with Hosting Residence you are not left on your own. This plan comes with Web Star Pack, a package of books, tools and templates. You will get 100 HTML Web Templates, you can customize and upload instantly. (You can download templates immediately after your order).
Features
There are 3 plans to choose from and all enable you to create interactive features such as blog, forum, photo galleries, but you will need to set them on your own. Don`t worry, you have an extensive knowledge base and support available 24/7.
Check some of the features here.
Hosting Residence Pricing
There are 3 different packages to choose from (starting at $4.95).
How To Sign Up

When registering your domain name, select one of the Hosting Residence hosting plans on the "hosting section" of the order form.
Click here to sign up for Hosting Residence Plan.

Web Hosting Option#3: Quick Shopping Cart®
The best E-commerce solution
Revolutionary Point and Click technology
Accept Credit Cards
QuickBooks® Synchronization
Turnkey System
Sign up here or read about this plan below.
Everything you need to run a successful online store is right here in this package, for a price, you can`t beat if you bought these things on your own.
Design
With Online Web Builder, similar to Website Tonight®, you can create your Web store in just 6 steps. It is as simple as point and click. Just choose from Pre-designed Templates and enter your products. No programming skills needed!
E-commerce
Once you add products to your store, you have total control over them. You can easily define prices, discounts and track order status. Your online store is MasterCard and Visa certified, SSL enabled and secured with Fraud Module for advanced protection.
General Features

Whether you provide hard goods or digital products, Quick Shopping Cart® enables you with Shipping service to U.S. addresses (UPS® and USPS®). It has been built with connectivity in mind, and enables you to synchronize with QuickBooks®, eBay & Froogle™.
No matter what kind of web store you need, Quick Shopping Cart® is so powerful that it is perfect for beginners and customizable enough for advanced users.
Support
If this features look a little overwhelming, don`t worry. They have it all covered in their knowledge base and their support is ready to help you.
Learn more about Quick Shopping Cart® here.
Quick Shopping Cart® Pricing

There are three plans to choose from, starting at $12.99 per month.
Click here to purchase Quick Shopping Cart®.
Are you wondering which Hosting Plan is Best for You?
| | |
| --- | --- |
| | You have just read 3 hosting options listed by their features. Let`s sum up: |
Web Hosting Option#1 – WebSite Tonight – For Beginners
If you want to build a personal or professional site quickly and easily than this option is for you. Remember, 800 Beautiful templates, and all you need to do is point and click.
Many people use WebSite Tonight for creating a Family Site, because they are so easy to create and maintain. Beginners just Love it. See WebSite Tonight Product Tour if you haven`t already.
Web Hosting Option#2 – Hosting Residence – For Intermediate Users
If you only need Web hosting and you will build website on your own, this is for you. Remember: With every order you get a Web Star Bonus Pack!
Web Hosting Option#3 – Quick Shopping Cart® – For Online Business
For those of you that want to start an online business this is a real winner. In just six easy steps, build and publish a stand-alone store with turnkey credit card processing and shipping. Order now.
—————————————–
Now that you have a a web hosting account and a domain name, its time to link them together and start building. Let`s go to next step!
—————————————–